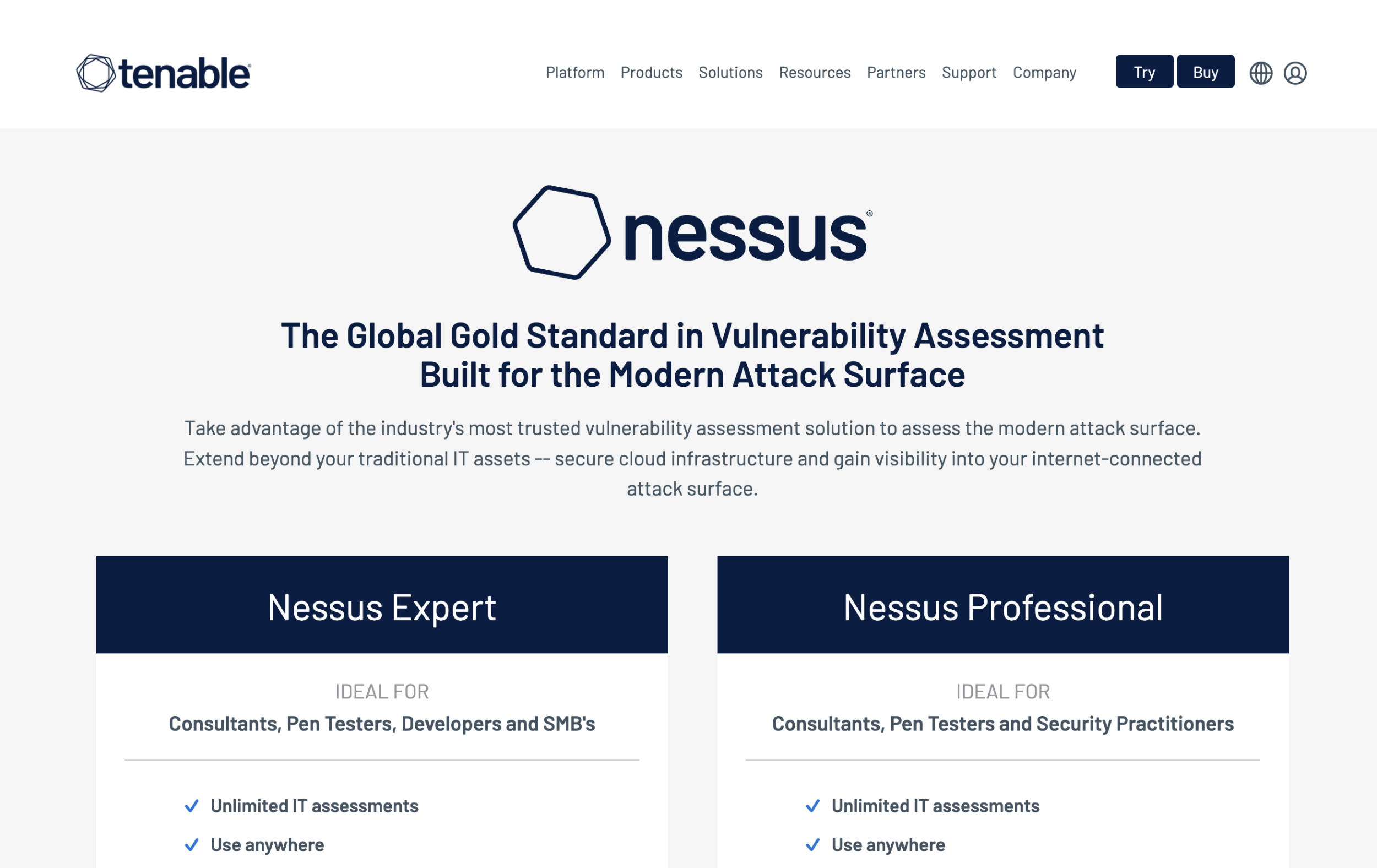 The global gold standard in vulnerability assessment built for the modern attack surface.
Take advantage of the industry's most trusted vulnerability assessment solution to assess the modern attack surface. Extend beyond your traditional IT assets -- secure cloud infrastructure and gain visibility into your internet-connected attack surface.

Nessus is built from the ground-up with a deep understanding of how security practitioners work. Every feature in Nessus is designed to make vulnerability assessment simple, easy and intuitive. The result: less time and effort to assess, prioritize and remediate issues.

- Deploy on Any Platform
Nessus can be deployed on a variety of platforms, including Raspberry Pi. Regardless of where you are, where you need to go or how distributed your environment is, Nessus is fully portable.

- Efficiency and Accuracy
Dynamically compiled plug-ins increase scan performance and efficiency, enabling faster completion of the first scan and time to value.

- Gain Visibility Into Your Internet-Facing Attack Surface
You can't protect what you can't see. Find and assess internet-connected assets before they find you.

- Secure Cloud Infrastructure Before Deployment
Uncover security issues as part of the software development lifecycle (SDLC) before it's too late.

- Zero In on Threats That Matter Most
Market-leading coverage so that you know every vulnerability. Leverage the power of Nessus so you can triage and address the threats that matter most.

- Pre-Built Policies and Templates
More than 450 pre-configured templates help you quickly understand where you have vulnerabilities. Easily audit configuration compliance against CIS benchmarks and other best practices.

- Customizable Reporting & Troubleshooting
Customizable reporting capabilities can be optimized to meet specific needs and are exportable in formats that are most suited for your security process.

- Live Results
Live Results automatically performs an offline vulnerability assessment with every plugin update, showing you where you may have vulnerabilities based on your scan history. From here you can easily run a scan to validate the presence of the vulnerability that accelerates the accurate detection and prioritization of issues.

- Ease of Use
Nessus is designed with an intuitive approach to navigation and user experience. This includes a resource center to guide you with actionable tips and guidance on the next steps to take.

- Grouped View
Similar issues or categories of vulnerabilities are grouped together and presented in one thread, simplifying the time to research and prioritize issues for remediation. Snoozing lets you select specific issues to disappear from view for a specified period of time. So you only focus on the issues that matter at that time.